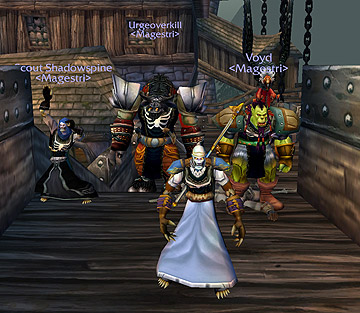 Well, times have surely changed since that 1-59 climb.
We have done many things in the past few months.  Moving to Minority, then back to Magestri. Moving to Clown School, then back to Magestri.  One thing stayed the same though, we found friends and purpose in Magestri.
The end Game instances will take many hours of hard core gaming.  They take lots of practice and tons of coordination to execute correctly.  With that said, we in Magestri have something many other guilds need, team work, loyalty and dedication to each others development.
I would like to build up our guild to the point that we are running Strat, Scholo and Dire Maul regularly.  When we have that down, we should shoot for ZG.